Aug 5, 2023
STATE REP. DAVE SEVERIN ANNOUNCES RE-ELECTION CAMPAIGN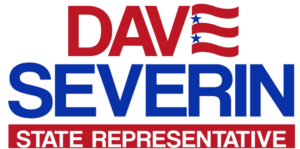 For immediate release: August 5, 2023
Contact – State Rep. Dave Severin – [email protected]
BENTON – On Saturday morning, surrounded by family members, friends, supporters, and Republican elected officials, State Rep. Dave Severin announced he will seek another term as 116th district State Representative.
"What we're experiencing under the Chicago Democratic Machine, Governor Pritzker and President Biden is record inflation, record interest rates, and out-of-control spending," Severin said. "I fought to cut taxes on food, fuel, medicine, and school supplies, and I rejected record spending budgets that give politicians pay raises. I'm working to make life more affordable for the average working person and family. That's the kind of leadership we need in Springfield."
Severin won his first race for State Rep. in 2016, defeating a long-time incumbent Democrat member of Mike Madigan's leadership team.
"I started out this journey with the support of my friends and family right here in Franklin County. We worked hard, overcame millions of dollars in negative ads, and secured a victory that changed the landscape for Republicans in Southern Illinois," Severin said. "The work is not done. It is an honor and privilege to serve as a State Representative. It's a 365-day-a-year job that requires someone that can be relevant, solve problems, and advance the ball forward for the people of this district."
Severin has amassed a 100% pro-life and 100% pro-2nd Amendment voting record since taking office in January 2017. In his announcement, Severin referenced his opposition to Governor JB Pritzker's mask and vaccine mandates, school lockdowns, and the leftist progressives' "Green New Deal" that is hurting working families by driving up electricity and fuel bills.
"I'm fighting against the radical Green New Deal that Illinois Democrats are pushing that's caused our electricity bills to climb out of control," Severin said. "And, I'm working to lower your electricity and gas bills. My experience in office has allowed me to become the ranking member of the House Energy and Environment Committee. The Democrats' radical climate change agenda is hurting everyone with higher prices and threatening our energy grid. We need to be using our coal, oil, and natural gas reserves to provide our citizens with cheap, reliable, efficient, and yes, clean energy."
Severin says he is eager to continue his work to stand up for the values he shares with his constituents.
"I'm running for another term to bring our message and our values to Springfield," Severin said. "I'm fighting for lower taxes, to protect the sanctity of life, to protect our 2nd Amendment rights, and to give Southern Illinois a relevant and meaningful seat at the table to bring important projects and results back home for our citizens," Severin said. "I'm very grateful to have earned support from voters in every Primary and General Election so far, and I plan to work hard to earn your vote and your trust for another term as State Rep."
Watch Dave's Re-Election Announcement Video!
###
---
---