Sep 7, 2023
Sign Rep. Severin's 2024 GOP Primary Petition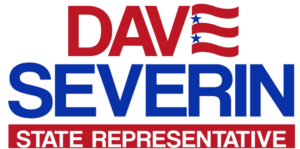 BENTON – State Rep. Dave Severin is running for re-election as 116th District State Representative. The petition gathering season began on Tuesday, September 5th, with the March 19th Primary just six months away. Rep. Severin is asking his supporters to help circulate petitions to help him continue to represent the shared conservative values of the citizens of Southern and Southeastern Illinois.
To download and print State Rep. Dave Severin's petition, click here!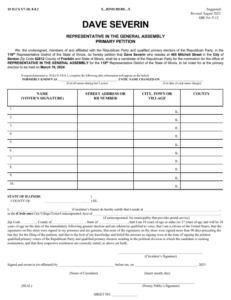 Eligible voters aged 18 and up who plan to vote in the Republican primary are encouraged to sign Rep. Severin's petition. Completed petitions should be returned to Rep. Severin at PO Box 10 – Benton, IL 62812. The petitions must be notarized by a licensed notary public and signed and affirmed only by the individual who passed the petition. Post-it notes, mailing labels, and/or additional markings on petition documents are strictly prohibited and may result in the disqualification of signatures gathered.
To donate to Friends of Dave Severin, visit https://friends-of-dave-severin.square.site/
---
---